Slip and Fall Accidents in Grocery Stores
While a slip and fall accident can occur anywhere, a high percentage takes place in grocery stores. That makes sense, as almost everyone goes to the grocery store to purchase basic necessities. There is no shortage of liquids that can spill, and other elements contributing to slips, falls, and injuries. While elderly and disabled people are especially vulnerable, no one is immune from a grocery store slip and fall injury.
A New Jersey slip and fall attorney at Harrell Injury Law protects your rights and can help you receive the compensation you deserve for your injuries.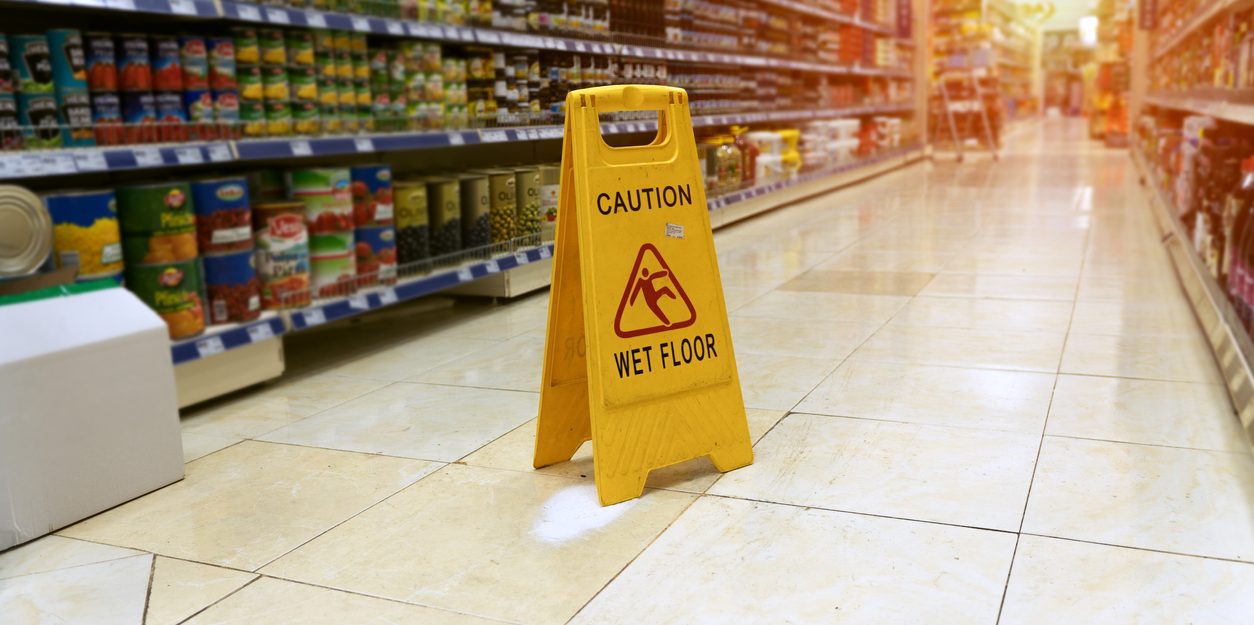 Common Causes of Grocery Store Slip and Falls
While grocery shopping, you may notice lettuce or other produce rolling out of bins onto the floor. Perhaps cans have fallen off a shelf onto the floor. Employees mop the floors regularly. All of these common scenarios are potential slip or trip hazards.
Common causes of grocery store slips and falls include:
Wet floors
Debris in aisleways
Heavy items falling off shelves and striking customers
Damaged shopping carts
Malfunctioning doors
Floor obstructions
Loose tiles or flooring
Grocery Stores
Most people visit the grocery store at least weekly, and many shop in food stores more often. In the Monmouth County area, the top grocery store chains include:
Acme
BJs
Costco
ShopRite
Stop & Shop
Target
Trader Joe's
Walmart
Wegman's
Whole Foods
When Is the Store Owner Liable?
Store owners must exercise reasonable care for customers. If they do not, they may be liable when a customer slips and falls on their premises. Supermarkets are full of potential hazards, and managers and employees must stay on the lookout for these dangerous conditions and rectify them before they cause harm.
While the store owner or management must prevent hazardous conditions, there are situations in which they may not be liable. For instance, if a customer ahead of you drops a container and spills liquid onto the floor, and you immediately slip, the store may not be liable because employees did not know about the spill and could not clean it up. If the spillage was already on the floor and not cleaned up in a timely manner, that is a different scenario.
What to Do After a Grocery Store Slip and Fall
The success of a slip and fall claim depends on providing as much evidence as possible. After a grocery store slip and fall accident, document the incident immediately to the best of your ability. Keep in mind that the store will soon clear away any spillage and move items causing a trip hazard. Actions to take include:
Taking photos of the area where the fall occurred.
Reporting the accident to the store manager.
Having the store fill out an incident report.
Seeking prompt medical attention. Call 911 if seriously injured.
If there were witnesses to your fall, collect their names, addresses, and contact information.
Common Slip and Fall Injuries
Slip and fall injuries in grocery stores range from the relatively minor to life-threatening. Some injuries may keep you away from work for several weeks. Others are so serious that you may never work or live independently again.
Common slip and fall injuries in supermarkets include:
Back injuries
Broken bones
Head injury
Lacerations
Spinal cord injuries
Sprains or strains
Grocery Store Slip and Fall Accident Compensation
Compensation, or damages, for a grocery store slip and fall accident may include:
Medical expenses, current and future
Lost wages
Loss of future income
Pain and suffering
In New Jersey, you can still receive compensation even if you were partly at fault for the accident. If you were more than 50 percent responsible, you cannot recover compensation. For example, if you did not see a Wet Floor sign, walked into the area, and slipped and fell, you are likely partly responsible for the fall. However, a slip and fall attorney might review the store's surveillance footage and find that the Wet Floor sign was obscured from view for anyone walking in that direction.
Every slip and fall case is unique, which is why you should consult a personal injury lawyer as soon as possible.
Contact a New Jersey Grocery Store Slip and Fall Lawyer
If you or someone you know suffered slip and fall injuries in a grocery store, contact the experienced New Jersey accident attorneys at Harrell Injury Law. Located in Wall Township near neighboring Howell Township, Asbury Park, and Freehold we serve all of Monmouth County. Schedule a free, no-obligation consultation today. Since we work on a contingency basis, there is no fee unless you receive compensation.
Take The First Step, I look Forward To Helping You!